The DOLLE Group has been developing its business for decades and today operates in three business areas.
Read on to get to know the Dolle family and see a presentation of each Group company.
THE DOLLE FAMILY
DOLLE – SERVING CUSTOMERS FOR MORE THAN 70 YEARS
Over seventy years ago, Carl Dolle made a fresh start in Bremen, Germany. It wasn't exactly easy for the young native of western Germany's Sauerland to gain a foothold in the northern city of Bremen. Aged 24, he on more than one occasion was told by customers to "greet your father when you see him". With a will of iron and determined to keep his goal in sight, he nevertheless succeeded in getting the business up and running within a short time. Ever since, his motto has been: "You can't change what is past, but you can change your future business." Other family members likewise placed their entrepreneurial skills at the service of the common cause. Carl's wife Ursula joined the business in 1968 and successfully built up DOLLE Plastics operations in Bremen.

The DOLLE Group
Management responsibility has since been handed down to the next generation. At the age of 30, Carl and Ursula's eldest son Matthias signed up to the Dolle Bros. business, too. Today, he runs DOLLE Stairs in Bremen.

Acquisition of the Brenneisen company expanded the Group in 1996. This new line of business focused on the development and pan-European sale of residential wall shelving and has since been renamed DOLLE Shelving. Youngest son Stefan Dolle leads this business.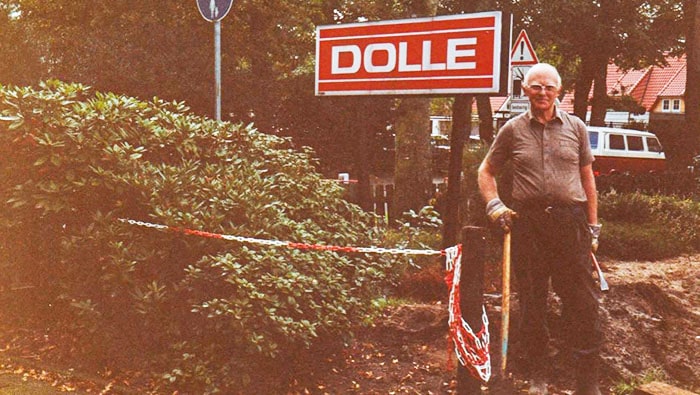 Carl Dolle founded the company in 1951 – and never tired of lending a hand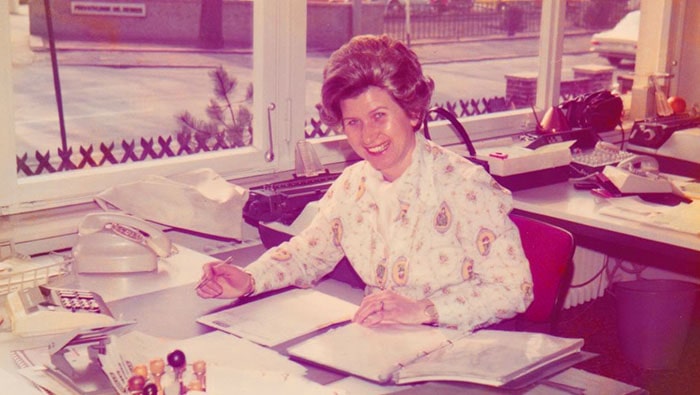 Ursula Dolle in the 1970s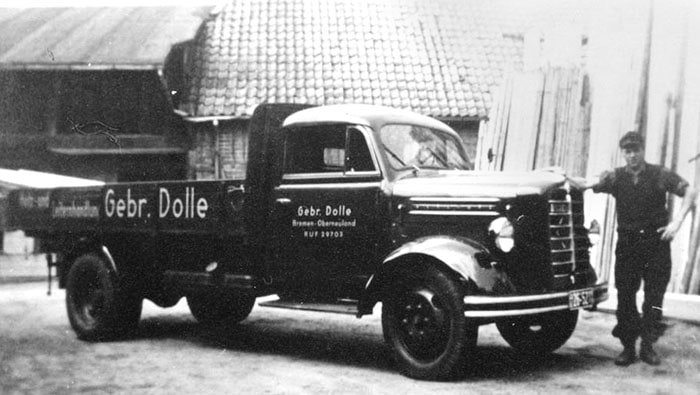 The first DOLLE employee, "Fidi" Boschen, in 1953
DOLLE STAIRS
Founded in 1951 in Bremen, Germany | +620 employees worldwide

Established in 1951 by Carl Dolle, the company initially focused on manufacturing a simple range of wooden products which quickly expanded in the direction of high-quality component parts. Today, DOLLE has a presence in more than 40 countries worldwide.
Loft ladders remain our flagship product, and DOLLE is recognised as the market leader in Europe for timber loft ladders. We also produce modular, spiral and space-saving staircases as well as a comprehensive range of banisters.

In the early 1980s, Carl Dolle took a decision that would change the future direction of the business. Along with his Danish business partner Erik Torrild, he began to manufacture staircases in Frøstrup, Denmark, where the two registered their loft ladder company under the name DHW. From then on, the business focused fully on helping people create space and gain safe access to loft areas. Later, in 1992, the manufacturing company was renamed DOLLE to ensure a uniform brand image worldwide.

The Danish factory covers more than 18,000 m2 and uses cutting-edge technology. It is the epicentre of the company's production, featuring two unique and highly automated production lines for loft ladders. Ladders and stairs are regularly removed from ongoing production and inspected to ensure consistent compliance with the highest quality standards. The plant boasts ISO 9001 certification, and all DOLLE attic ladders are produced in accordance with the EN 14975 guidelines.

DOLLE launched its first take-home spiral staircases based on the unit construction principle in 1988, followed in 1997 by production of wooden modular staircases to complete the range.

More than 300 dedicated employees today manufacture DOLLE products at our three factories in Denmark, China and the Ukraine. The Chinese factory in Suzhou is responsible for manufacturing metal components and is the main production centre for our PROVA handrail and banister system. Based in Uzhhorod, our Ukrainian production plant operates our entire timber supply chain, including forestry, sawmilling and the manufacture of the FSC-certified solid wood components that are forwarded to our Danish factory. Each factory specialises in one specific task in the production process and operates in tandem with a strong network of sourcing partners.

DOLLE has been "the safe way up" for more than 70 years. Its success is attributable not only to the vision and creativity of Carl Dolle, but also to the commitment of every employee at the DOLLE Group – not forgetting the loyalty of all the faithful customers who have accompanied us on our journey. Today, as ever, we are still committed to meeting your design needs, giving you inspiration and freeing up space for a simpler, more comfortable life.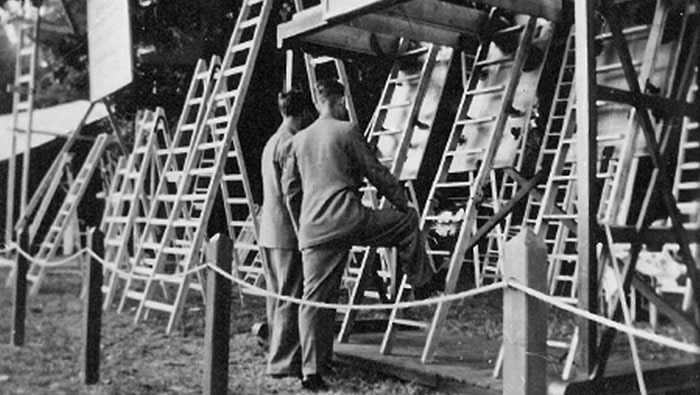 The first DOLLE exhibition was held in a public park in Bremen, Germany, in 1953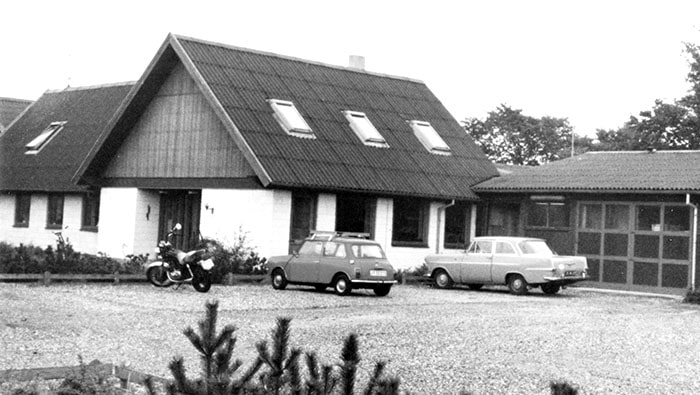 DOLLE factory in Frøstrup, Denmark, in 1982
Today, automated production helps us produce more than 350,000 staircases a year
DOLLE SHELVING
Founded in 1982 in Gross-Rohrheim, Germany | 90-plus employees in Germany

What is today DOLLE Shelving started out as Brenneisen Gmbh in 1982. The DOLLE Group acquired Brenneisen in the mid-1990s, and it has since operated under the name DOLLE Wohnregale GmbH & Co. KG.
The business was established as Brenneisen GmbH in 1982. The DOLLE Group acquired it in the mid-1990s and changed its name to DOLLE Shelving at the turn of the millennium. The business is based in the central German Rhine-Main region, around 20 minutes south of Frankfurt by car – an excellent location from a logistical perspective. From small beginnings, the volume of trade swelled alongside explosive growth in the German DIY market. DOLLE Shelving was quick to adapt to the new demands of this growing industry – with innovative DIY products, appealing POS presentations, over average supply chain fulfilment and an outstanding sales and merchandising organisation.

The shelving assortment and range portfolio was continuously expanded following the original acquisition of the business. Today, DOLLE Shelving markets the entire spectrum of consumer shelving and brackets for wall mounting, skillfully made as one-stop shopping solutions. The range of materials includes wood, metal and glass, but also trend materials like steel and aluminium.

More than 60% of our current turnover is generated by selling products that did not exist three years ago – a clear indication of the innovative strength of this predominantly "home-style focused" range. We give top priority to product development - constantly developing new product ideas in-house and launching two new ranges every year. Product design, packaging and presentation concepts are all created in house, while various components are sourced globally.

Export activities too have accelerated sharply. DOLLE product ranges are now sold in most European key markets, e.g. Austria, Switzerland, Italy, Spain, UK, Scandinavia, Belgium and most recently in the US.

An important step toward safeguarding the future was taken at the start of the new millennium. Newly built in just seven months, our new logistics and office centre in Gross-Rohrheim was opened in November 2000. These investments were enabled by the growth enjoyed in previous years and had become necessary to make the flow of logistics and general operations more efficient. At the same time, by expanding our high-bay warehouse and our office space, we created ideal conditions for further expansion in the future.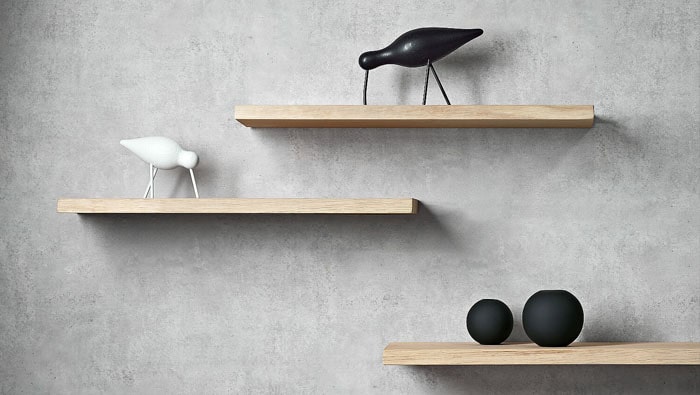 Wall shelving made from wood and glass – the perfect synthesis of form and function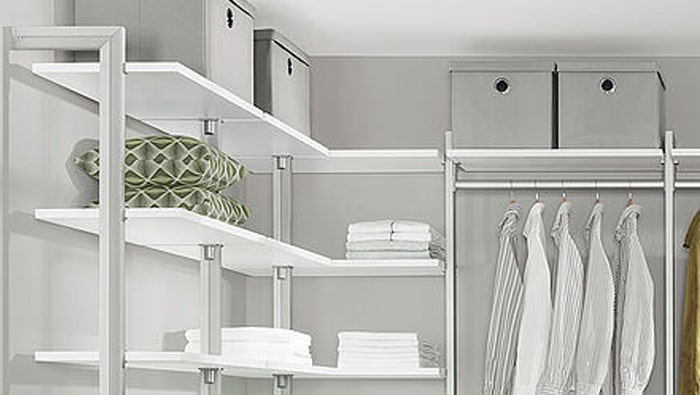 The vast portfolio also includes complete shelving systems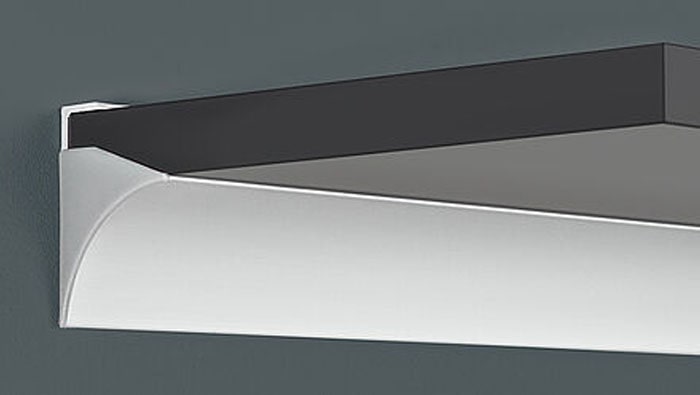 Clips, brackets and rails for wooden and glass shelves
DOLLE PLASTICS
Founded in 1968 in Bremen, Germany | 80-plus employees in Germany

DOLLE Plastics was founded in 1968 in Bremen, Germany. At the end of the 1960s, building construction and civil engineering began to use more innovative plastic products as building materials.
DOLLE Plastics came into being in 1968 and today sells construction plastics, industrial plastics and products for the 3D advertising sector. Our customers are as varied as the product range itself, representing everything from the building materials trade to trade fair and store construction, advertising, technical trading, factory hall, machine and tank construction, to skilled crafts and the manufacturing industry.

Toward the end of the 1960s, complementing traditional building materials with innovative plastic products emerged as a new trend in building construction and civil engineering. Managing Director Ursula Dolle understood the opportunities that marketing these construction plastics would present and therefore launched the DOLLE Plastics business in Bremen. Roofing panels, balcony facings and façade cladding formed the initial range for outdoor construction applications. In the early 1990s, semi-finished plastic products from acrylic glass and polycarbonate were added to the portfolio, alongside rigid PVC foam sheets and, later in the decade, technical plastics.

The Bremen plant is today flanked by satellite sites in Lehrte (located near Hannover/Niedersachsen) and Bad Köstritz (located near Gera) in the state of Thuringia. Balcony facings and façade cladding are the focal products at the latter facility, while Lehrte specializes in technical plastics and plastics for advertising purposes. Sawing capacity at this plant is dimensioned to handle high-precision volume production. All three facilities work closely together to ensure that the entire spectrum of construction, industrial, advertising and technical plastics can be stocked and traded at each site.

Continuous expansion of our plastics processing machine park has significantly widened the range of services on offer. All trimming, drilling, milling and edge finishing work is handled in house. Customer consulting is another of our key strengths: Here again, projects for roofings/coverings, strip lighting, façade cladding, signage and exhibitions are all handled in house, with the perfect materials for each application. 75% of orders are tailored, milled or otherwise processed specifically to the customer's specifications.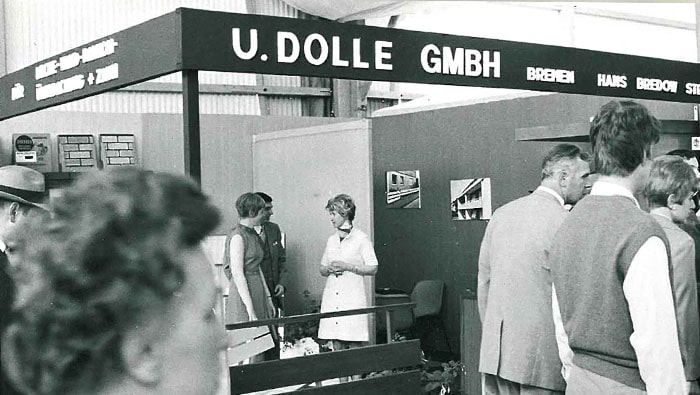 "Hafa" exhibition in Bremen, Germany, in 1969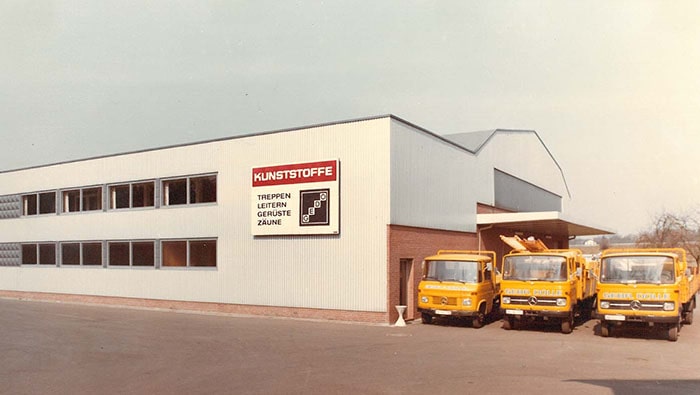 The DOLLE Plastics warehouse in 1976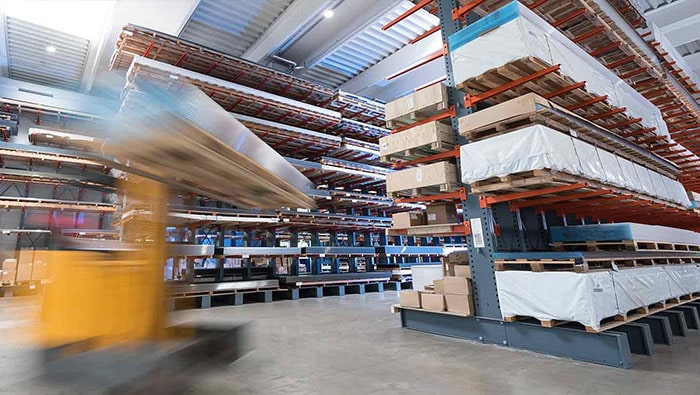 Today's leading-edge warehouse, boasting a vast array of products